Starting At Just
$99 A Month
Looking for a way to boost your business? We can help! With just one low monthly fee, you'll get an online presence that will make all the difference in getting more clients and closing deals. Simply pick from our pre-designed templates and have us customize it to fit your needs.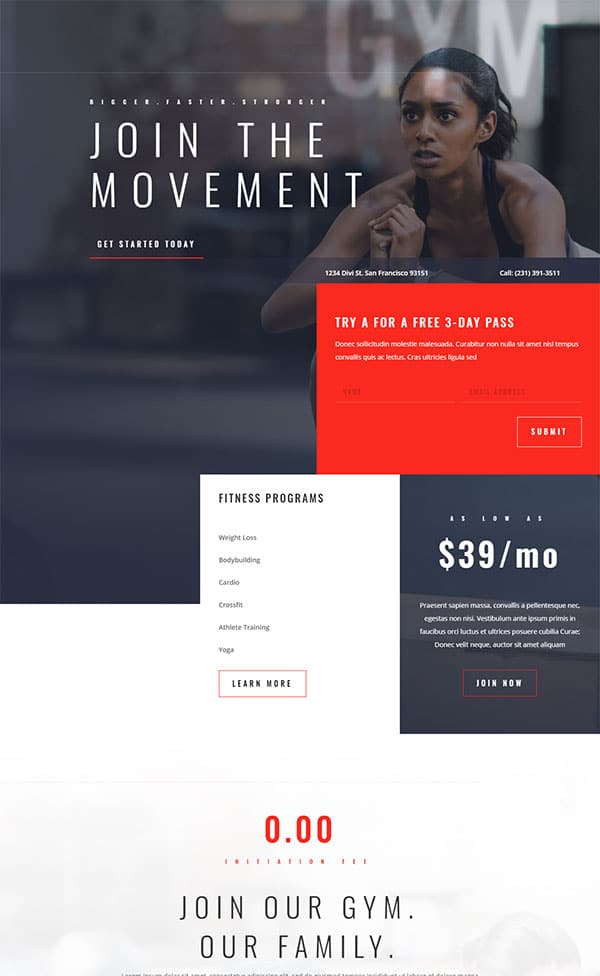 How Is
This So
Affordable
First things first – we're not a typical churn-and-burn one-and-done design agency. We're a dedicated, long-term partner in building, maintaining and growing your web presence.
So, we have priced out our monthly website design packages at a rate that is sustainable for both of us. Simply choose a website layout below, we customize it with your content, and then we launch it for the world to see!
Plus, For A Limited Time, The First Month Is On Us!
Choose your desired website layout. All the layouts can be customized to fit any business, so don't worry if you don't see your business type.
For instance, if you like the Bagel Shop layout, but you're an electrician, we can customize that layout to fit your business.
We will start customizing your desired website layout. We'll change the images, text, colors, and logo to fit your business and your brand.
Woohoo! Your site is ready for launch. Send us any final revisions and then we are ready to go!
Get Your New Website Starting At $99 A Month
Up To 10 Pages (Home, Services, Etc)
Built For Desktop & Mobile
Analytics To View Website Traffic
Jump right in and take advantage of your first month free!
We know you're busy, so we'll handle all the heavy lifting. You simply sign up, answer a few questions about your business, and we'll deliver your new website.
It's that easy, so what are you waiting for?

Super happy with the website Jason and his team created for my business! Looks very modern and very professional! If you need a website, I highly recommend you go with JP Solutions!

They were great to work with! They answered my questions and had helpful ideas, as well as listening to and implementing my ideas. The projects were completed when promised (or ahead of time). I love the website they created for me!
Difference Between Us & 
The Other Guys
We build your site for you
Built On the highly popular WordPress Platform
We Use Website Best Practices To Help Your Site Be Found On Google
If You Decide To Leave Us (Which You Won't 🙂 ) You Don't Need To Rebuild Your Site
Take A Look At The
Variety

Of Layouts We Offer

Any template can be customized to fit any business type. Simply find the template style you like, and we will make it fit your business. Click each image to see the full layout.
Why Is This A 
Great Option
Monthly payment websites are becoming increasingly popular with small and medium-sized businesses due to no up-front costs and easily managed payment plans. Plus, with our website layouts, you can get up-and-running in just 14 days! Now is a great time to get your business online with a great-looking website that is sure to bring in new customers. So, what are you waiting for?
I Chose A Plan. 
What's Next?
1. We Will Send You A Questionnaire
You will receive a questionnaire requesting information that we need to get started on the website. This will include information about your business (contact info, business hours, location..etc), as well as each page you'd like on the site.
2. The Design Process Starts
The website design process will begin! We will take your log, images, text, and desired color scheme and place it into a website layout that fits your brand.
3. Revise & Finalize
At this time, you will submit the rest of your content (if we need more), and request any additional changes to the site. Once the site is how you'd like it, we are ready for launch!
4. Ready For Launch!
The last step to make your site live is to point your domain to our web server. We can give you instructions on how to do this, or you can have us perform the point free of charge! And your website is live for the world to see!
Frequently Asked 
Questions
I Don't See A Website Layout For My Type Of Business. Can I Use Any Layout?
Absolutely! We can customize any layout to make it work for your business. For example, if you are a Plumber and like the "Auto Repair" website layout, we can customize that layout to fit your business.
How Long Will My Website Take To Build?
Depending on how many features and pages your website has, it can take up to 14 days on average. The build time starts once we receive all information from you for the website. The quicker you can get back to us with page content and changes, the quicker we can develop the site!
Are There Setup Fees Or Upfront Costs?
We have absolutely no set up fees! Just pay your first monthly payment to get the process started. We will bill you for the rest of the monthly charge on the 1st of each month.
How Do I Contact You To Make Changes To My Website?
You can contact us at any time by sending us an email directly or make a request through our Secure Clint Portal and one of our web designers will get back to you!
I Need More Features Or Updates. How Can I Get Those Done?
Our free revisions stop once the website is up. If you have changes that are beyond the scope of your plan, we will let you know BEFORE we start the work! From there, if you do decide to continue with the changes, we will send you an invoice for the work done. Our hourly charge is $150/hour. An example of a task that would take 10 minutes would be if someone who owned a restaurant website asked us to change pricing on their menu or asked us to add a few images to their gallery.
Can I Customize The Services?
Yes, you can. Being the experts in this field, we understand what your business needs. You may choose additional options on the contact form once you select your desired plan.
Don't Just Take Our Word For It
JP Solutions created a masterpiece of a website for my business, I couldn't be more please with the outcome. The process was very easy and he kept me informed the whole time. He created a very clean simple also very user friendly website. I would recommend JP Solitions to everyone! Thank you again
This was our first time having a custom website built for our business, we wanted to keep our business local, we found JP Solutions, we went in and told Jason what we were wanting, from start to finish everything went perfect, Jason takes the time needed to make sure everything we wanted is the way we needed it to be. Very professional with great business ideas!