Do you want to have a blog to share your knowledge & expertise but have a hard time writing? You are not alone. Many people find launching and maintaining a blog to be long, arduous tasks that they would rather avoid if possible! Our team at JP Solutions loves writing blogs because we know how rewarding it can feel when your voice starts pulling inbound traffic for the long term.
Need a Blog Writer? Well, look no further!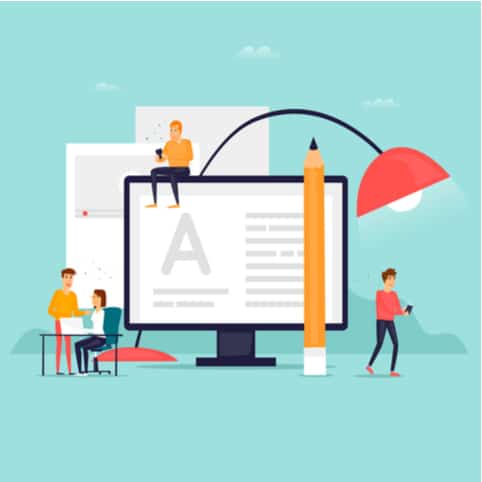 How Our
Blog Writing Service

Works
In order to get the most out of your blog, you need content that is both engaging and search-engine friendly. Our professional writers will construct all posts with SEO in mind so they can help drive traffic (and potential customers) into your business. 
This is all done so you can increase your chances of getting more traffic, customers, and clients by using the right keywords in Google. Our writers will optimize content for search engines which will help people find your website when they look up topics related to your business!
Pick from one of our plans.
During our onboarding, we'll learn about your goals and objectives, current content and SEO strategy, and come up with our recommendations.
Make a request with any content you'd like us to work on. No ideas or specific requests? Let us suggest up to 3 months worth of ideas!
Once you get an article draft ready from your assigned writer you can comment and feedback on the article itself, and request any edits if needed.
Quality content from a reliable team
Starter Blog
(4) 500-700 word post per month

Strategy, planning, and keyword research

Editorial plan based on research

Blog posts written with SEO in mind

Publish to WordPress blog
Business Blog
Most Popular
(8) 500-700 word post per month

Royalty-Free images

Strategy, planning, and keyword research

Editorial plan based on research

Blog posts written with SEO in mind

Publish to WordPress blog
Growth Blog
(12) 500-700 word post per month

Royalty-Free images

Strategy, planning, and keyword research

Editorial plan based on research

Blog posts written with SEO in mind

Publish to WordPress blog

Their onboarding process was incredibly thorough and it was so easy to get started with their blog writing services. We're seeing great results already and we're looking forward to seeing even more success as we continue to use JP Solutions!

I've been using JP Solutions for a little while now and I'm really impressed with the results. The copy is high quality and it converts well, which is exactly what you want from your copywriting. Their team is great too; they're always quick to respond to any questions or queries I have. Highly recommend!
Frequently Asked 
Questions
How long will the articles be?
Articles are 1,000 to 1,500 in length. If you'd like a longer article, we can create a 2,500-3,000 words article which will count towards 2 articles in your plan.
What's the expected ETA?
We generally provide your first completed article in 6-10 business days or less. Once you get on a subscription, you'll receive articles on a regular basis.
Do I approve the topics?
Yes, we provide a content calendar with ideas and keywords based on your SEO goals and our research. You approve every topic before we start writing.
Can you make revisions on the article?
Yes, we provide unlimited revisions based on your feedback.
What industries do you cover?
Our writers can cover virtually any industry. We have several writers with different backgrounds and experiences in the team and we'll assign the work to the most experienced for the specific niche or industry.
All our writers will follow a journalistic fact-finding process to source reliable information and create valuable, well-researched content.
Some of the industries we cover:
Architecture
Automotive
Beauty
Cannabis
Career
Construction
Counseling
Dental
Design
Engineering
Environment
Fashion
Food
Gaming
Gardening
Health
Healthcare
Home Improvement
Insurance
Law
Legal
Manufacturing
Nutrition
Parenting
Personal Finance
Real Estate
Relationships
SaaS
Sales
Security
Software
Sports
Streaming
Technology
Transportation
Travel
Wellness
Why are blogs important for businesses?
Blogs are important for businesses for a few reasons.
First, blog posts are the best way for you to be found when your ideal customers research information on your product, services, or industry and related problems. By getting found, you have a chance to be considered, build a relationship, generate leads, and drive sales.
Second, by attracting traffic and links, your blog posts will help you increase your overall domain's reputation and rankings across important keywords for your business, increasing the amount of organic traffic and leads your business generates through search traffic. You can't really do SEO without having a lot of fresh, updated, valuable content available on your site.
Additionally, blog posts can be used to communicate with customers and followers on a more personal level. This allows businesses to build trust and relationships with their customers, which can be crucial in the long run.
Can your writers help me rank on Google?
Yes, definitely. If you're looking to rank your website higher on Google, JP Solutions can help. Our experienced writers have the skills and knowledge to craft high-quality, keyword-rich content that will help you reach your target audience.
Are the articles SEO-optimized?
Of course! SEO optimization starts with picking the right topics. We'll research your brand's products, blog, and site rankings, as well as the competition, to identify topics and keywords we can help you rank for. Keywords will be included strategically throughout the article to increase the relevance of the article for those and related keywords, striking the right balance between SEO and readability.