Every type of business that sells anything online should have a sales funnel. Without it, you can easily spend a lot of advertising dollars on prospects that never turn into paying customers.
The sales funnel process should seamlessly move a prospect from seeing your ad on Google or social media to each stage of the sales funnel until they are ready to make a purchase.
So, let's dive into what a sales funnel is and a working example of how it works.
What Is A Sales Funnel?
A sales funnel is a sales process that walks your potential customers through the path of potentially making a purchase. The term "funnel" means that you will have a large number of people come to the top of your sales process, but only a small portion of those people will actually end up buying from you.
The acronym AIDA describes the 4 basic steps in the sales funnel process. AIDA stands for:
Awareness
Interest
Decision
Action
The goal of your sales funnel is to have a potential customer pass through each stage of the funnel. As they pass through each stage, it signifies a building of trust with your product and a stronger inclination towards making a purchase. This is a great tool to use with any type of marketing effort as it guides people from the advertisement of your product or service to actually making a purchase.
Let's Breakdown The Sales Funnel Stages
Before we get too deep into the sales funnel process, it is important to understand who your target audience is and how your funnel needs to resonate with them.
Not all prospects are the same and the journey may feel a little different to each one. Take into consideration the product or service that you will be advertising and develop a clear vision of the type of customer that would be interested. From there you can build a solid marketing plan that will appeal to your target market and a sales funnel that will bring in the sales.
Once you have identified what you are selling and your target market, you can begin to dive into building your sales funnel. Here are the stages:
Awareness
This is the very top of your funnel and where prospects will learn about your product or service. At this stage, you should make your prospects aware of a problem they need to solve and some solutions to solve them with.
Usually, your prospects will reach the top of your funnel from your advertising efforts such as Facebook Ads, Google Ads, or simply a Google search for a product or service you are selling. Even just posting on your social media channels with a link to your funnel will get them there. Just keep the message clear and concise to provide a user-friendly journey.
Interest
Now that you have identified with your prospects some problems they may have, you can come in with solutions that can help them. At this stage, your prospects have been made aware of your business and they are looking over their options on making a purchase.
It is important in this stage not to sell your product or service right away because you may chase your prospects away. Instead, use this as an opportunity to show your expertise and knowledge in your field and help your prospects build trust. There have actually been studies that show that people do business with those that they know, like, and trust.
Decision
Okay, now is the time for the prospect to turn into a potential customer. At this stage they still may be considering other options but, rest assured, you are in the top 3 options. So, what can you do to help nudge the decision in your favor? Simple, offer something that is hard to refuse! Offer things like free shipping or a discount on the first purchase of your product or service. Be creative in your offering and make sure it is something that your prospect won't want to pass up.
Action
We have reached the bottom of the sales funnel which is the action stage. This is where, you guessed it, the prospect makes a purchase and now is one of your loyal customers. So, congratulations!
But there is still a long way to go and that is the sale beyond the sale. Just because your customer purchased from you does not mean that they will buy again. You need to make sure you nurture the business-customer relationship and keep that customer coming back for more.
First and foremost, customer service is key! Always be thankful for every purchase, ask your customers for reviews or testimonials, and always be willing to help.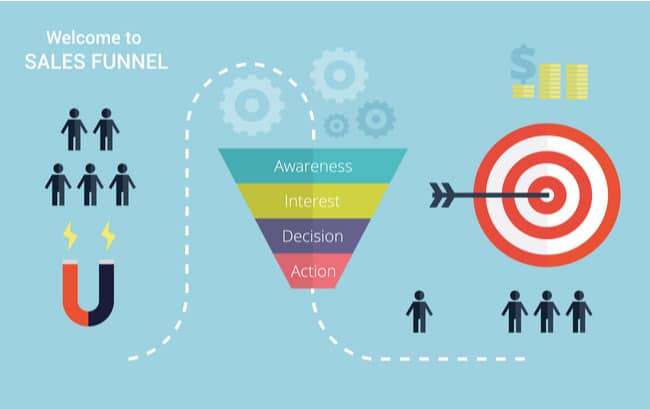 Here Is An Example Sales Funnel
Let's say that you own a boutique that sells baby clothes and you have an online store. You decide that you want to increase your online sales so you begin to develop your marketing strategy by identifying your target customers. After some research, you realize that your target audience is mostly females between the ages 25 and 35 and they are mostly on Instagram.
So, you begin to develop your Instagram post or advertisement that drives traffic to your website. Once the prospect gets to your landing page, you will ask them for an email address in exchange for a lead magnet such as a free ebook, discount code, or some other special offer.
Now that you are building your email list with a successful landing page, you will have a good set of leads to send content out to. You can send your leads information such as tips for dressing a baby in style, directions for baby clothing care, or great ways to accessorize your baby outfits. This helps build interest and trust in your brand since you are not coming off as a "pushy salesperson".
Once you have run an email marketing campaign for a few weeks to help build your trust factor, you can offer those leads a discount off of their first order. A great example would be, "Save 15% Off Your First Order," and that should instantly start bringing in the sales.
Now, as I mentioned before, focus on the sale after the sale by creating a new email marketing list made up of your customers. With this list, you will also run an email marketing campaign but now with content related to their interaction or purchase with your business. You can also add more discounts every now and then encouraging them to make more purchases.
Conclusion
A sales funnel is a great way to attract new customers and increase sales but it does take time and patience to build one that works.
You have to keep in mind that advertising online is a very competitive space and you need to set yourself apart from the competition.
Taking the time to build an email list and giving valuable information to your prospects will go a long way in building trust with your brand. It will ensure that you build long-term relationships with your customers and keep them coming back for more.