For more than a decade, UpCity's mission has been—and continues to be—to help businesses find B2B service providers they can trust. The UpCity Recommendability Rating was developed to determine a service provider's credibility and recommendability, giving UpCity the confidence to recommend them to the more than 1.5 million businesses that visit their site.
Each year, UpCity analyzes and scores more than 70,000 service providers based on their UpCity Recommendability Rating and acknowledges the top national and local providers with an UpCity Excellence Award. The results are in, and we won!
JP Solutions is a full-service digital marketing and web design company that you can trust for your business. We specialize in helping our customers establish and grow their online presence by creating stunning web experiences and campaigns to attract new customers. We're a dedicated partner and are committed to building long-lasting relationships with our clients. If you need a new website or a new marketing strategy, contact us!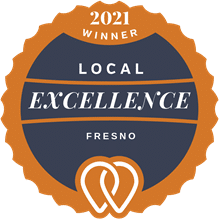 Dan Olson, Founder & CEO of UpCity, had this to say about JP Solutions:
Congratulations JP Solutions on achieving the UpCity Local Excellence Award. Through your commitment to high-quality work and customer satisfaction, you have proven to be a reliable and long-term marketing partner to your clients.
– Dan Olson, Founder & CEO
This recognition has been driven in large part by our 5-star review rating on UpCity. Here are a few of our favorite pieces of feedback we've received from our incredible customers:
I had a fantastic experience working with JP Solutions. I'm a photographer, new to
having my website, and straight away after our first conversation, I knew I was in good
hands. I had certain needs for my site, and Jason and his team were able to deliver all of
my requirements. They were quickly responsive to all of my inquiries, and even offered a
solution for a problem I didn't know I had. For someone that needed a website done
quickly, but to a high standard, I'm very happy with the final result JP Solutions was able
to deliver. Highly recommended!
I've been dealing with Jason for a while now and he has always been polite, easygoing,
and always tries to make sure he understands what I want or what I'm asking. Their
pricing is lower but within the area of other companies, I've gotten quotes from.
Response time has always been great too, any changes we request of our site are
usually done within the day. I highly recommend JP Solutions for your web design and
web marketing.
We truly care about each and every project, no matter how big or small, and take pride in
delivering websites and campaigns that exceed our clients' expectations. Thank you to the
UpCity team and our JP Solutions customers over the years for this tremendous award and
honor.