For more than a decade, UpCity's mission has been—and continues to be—to help businesses find B2B service providers they can trust. The UpCity Recommendability Rating was developed to determine a service provider's credibility and recommend ability, giving UpCity the confidence to recommend them to the more than 2 million businesses that visit their site.
Each year, UpCity analyzes, and scores more than 70,000 service providers based on their UpCity Recommendability Rating and acknowledges the top national and local providers with an UpCity Excellence Award. The results are in, and we won!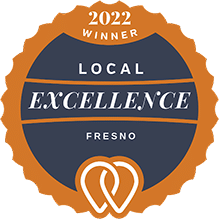 Jack Thornburg, VP of Organic Growth of UpCity, had this to say about JP Solutions:
The team at JP Solutions knows how to hit the ground running when it comes to their clients to provide solutions and results soon as possible. We're proud to name their team an Excellence Award winner this year.
– Jack Thornburg, VP of Organic Growth, UpCity
This recognition has been driven in large part by our 5-star review rating on UpCity. Here are a few of our favorite pieces of feedback we've received from our incredible customers:
After having a friend drop the ball on helping me to build a website for my online boutique, I needed help to prepare my website for launch… fast. Jason got quick to work in helping me make some changes to my shop's site and was extremely thorough in asking me everything I wanted to be done to it. He leads the way and pointed out a lot of things that I hadn't even thought of, gave great suggestions, and got it done promptly. I highly recommend JP Solutions!
Our nonprofit needed a rebuild of our website. Jason and his team produced a beautiful new website and so many people have commented on how good it looks. Jason and his team do a great job-and they listen! It's a pleasure working with them. They provide truly good customer service in a world where that is hard to find.
We truly care about each project, no matter how big or small, and always put ourselves in the shoes of our clients. We believe it is this dedication to the customer that helped us win this award. Thank you to all our clients for their support and relationships throughout the years.