For more than a decade, UpCity's mission has been—and continues to be—to help businesses find B2B service providers they can trust. Each year, UpCity analyzes and scores more than 50,000 service providers based on their UpCity Recommendability Rating and acknowledges the top national and local providers with an UpCity Excellence Award. The results are in, and we won!
JP Solutions is not a typical churn-and-burn, one-and-done design agency. We're a dedicated, long-term partner in building, maintaining, and growing your web presence. We offer a personalized, engaging, and empowering design experience for small to medium-sized businesses that want to stand out from the crowd, convert more customers, and blow away their competition.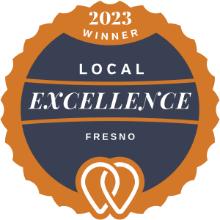 This recognition has been driven in large part by our 5-star review rating on UpCity. Here are a few of the glowing reviews we've received from our incredible customers:
Jason and his team were professional, creative, and most importantly, they listened. Consequently, they could deliver a website that tells the story of what our restaurant is all about to the visitors to our site.

-Ristorante Carpaccio, December 2022
JP Solutions revamped our company website, Lidyoff Landscape Dev. Co. Jason and his team were great to deal with and very patient with my thoughts and attention to detail. Would highly recommend them.
-Eddie Lidyoff, May 2022
After having a friend drop the ball on helping me to build a website for my online boutique, I was in need of help to prepare my website for launch… fast. Jason got quick to work in helping me make some changes to my shop's site and was extremely thorough in asking me everything I wanted to be done to it. He led the way and pointed out a lot of things that I hadn't even thought of, gave great suggestions, and got it done promptly. I highly recommend JP Solutions!
-Lexy Murguia, September 2021
We truly care about each and every project, no matter how big or small, and we always put ourselves in the shoes of our clients. We understand the fears, confusion, and apprehensions that come with looking for the right web designer. As a recipient of UpCity's exclusive Excellence Award, the JP Solutions team takes pride in our brand integrity and customer satisfaction, and we want to thank our clients for their continued support.
About the UpCity Recommendability Rating
The UpCity Recommendability Rating was developed to determine a service provider's credibility and trustworthiness. This rating helps give UpCity the confidence to recommend a service provider to the more than two million businesses that visit our marketplace, which is powered by over 35,000 verified reviews. Read more about the UpCity Excellence Award here.